Laser Clay Shooting Cruise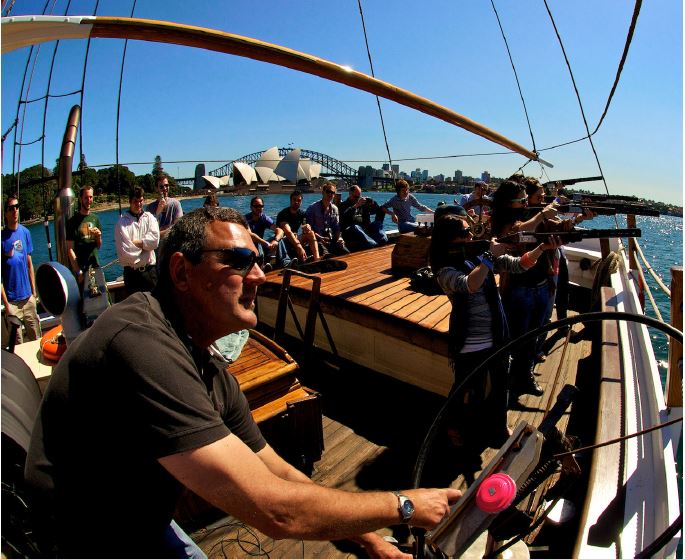 Duration: 150 Minutes (approx.)
Location: Sydney, NSW
Product code: LASER
Laser Clay Shooting competition, a tasty and freshly prepared lunch and A FREE MAST CLIMB!
___________________________________
Rates

- Adults (Ages 15+): $149

___________________________________

Duration
2.5 Hours
*Departs from Campbell's Cove Jetty, The Rocks. Check in time is at least 15 minutes prior to departure.
___________________________________
About
Laser Clay Shooting is an original and interactive activity that can be enjoyed by everyone in totally safety without harming the environment. Get a group of mates, family or colleagues together and have fun finding out who is the best marksman.

In each round, five "modern pirates" line up on the deck of our magnificent tall ship to shoot at the same target with their laser shotguns. The target (the clay) is launched into the air at various speed and angles and each player has to fire twice at the target.
Each gun is micro-chipped and linked to an electronic scoreboard. Points are awarded if the target is hit and the results are electronically calculated and displayed on the scoreboard. At the end of the competition, the player or team with the most points gets the glory!

During your cruise, subject to conditions, you will have opportunities to help hoist the sails, climb the mast and even sail the ship. Those who climb the mast are rewarded with spectacular views of Sydney Harbour and a tremendous feeling of accomplishment. This is a unique experience not to be missed!

___________________________________
Cruise Highlights
- Two and a half hour experience on Sydney Harbour

- Participate in the Laser Clay Shooting contest.
- Free Mast Climb! You save $60!
- Enjoy a tasty and substantial lunch.
- Add a Drinks Package for even more sparkle in your Sydney Harbour cruise