DRIFT DIVER SPECIALTY COURSE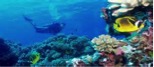 Duration: 3 Hours (approx.)
Location: Miami, QLD
Product code: DDSC 2018-19
DRIFT DIVER COURSE
Experience the New Adventure of feeling like flying underwater with Drift Diver Course
The Drift Diver Specialty course teaches you how to enjoy going with the flow as you scuba dive down rivers and use ocean currents to glide along. It feels like flying – except that you're underwater using scuba equipment. Drift diving can be relaxing and exhilarating at the same time. If this sound like fun, then the Drift Diver course is for you.
If you're a (Junior) Open Water Diver who is at least 12 years old, you can enroll in the Drift Diver specialty course.
What you will learn?
Along with drift diving techniques and procedures, you'll:
• Receive an introduction to drift diving equipment – floats, lines and reels.
• Get an overview of aquatic currents – causes and effects.
• Practice with buoyancy control, navigation and communication during two drift dives.
• Learn techniques for staying close to a buddy or together as a group as you float with the current.
Get credit! The first dive of this Specialty Diver Course may credit as an Adventure Dive toward your Advance Open Water Diver certification – ask your instructor about earning credit.
When can I start this course?
Pick up a Drift Diver Manual and the Drift Diving video to start learning immediately. Stop by Gold Coast Dive Centre to enroll in the course and pick up your independent study materials, or go to BOOK THIS COURSE NOW) on the web .
Gear Required for Drift DiverCourse
Along with your basic cube equipment, you'll learn to use various surface marker buoys and floats with lines and reels. Ask your Instructor at Gold Coast Dive Centre staff about other equipment you may need to get the most of your drift dives.
Follow Next steps
A few sample easy steps
Ø Get in contact with us by Phone or email us your enquiry
Ø Sign up online on (BOOK THIS COURSE NOW)
Ø We will book you in
Ø Course duration
Ø No Medical Requirements (Unless there is mayor health issues)
Ø Medical declaration to be completed on site before the course starts
Ø Fee Payment
Ø At the end of the course you will received a notification and receive your DRIFT DIVER certification card by mail
WELCOME TO THE SCUBA DIVE WORLD