Pinnacles at Sunset Tour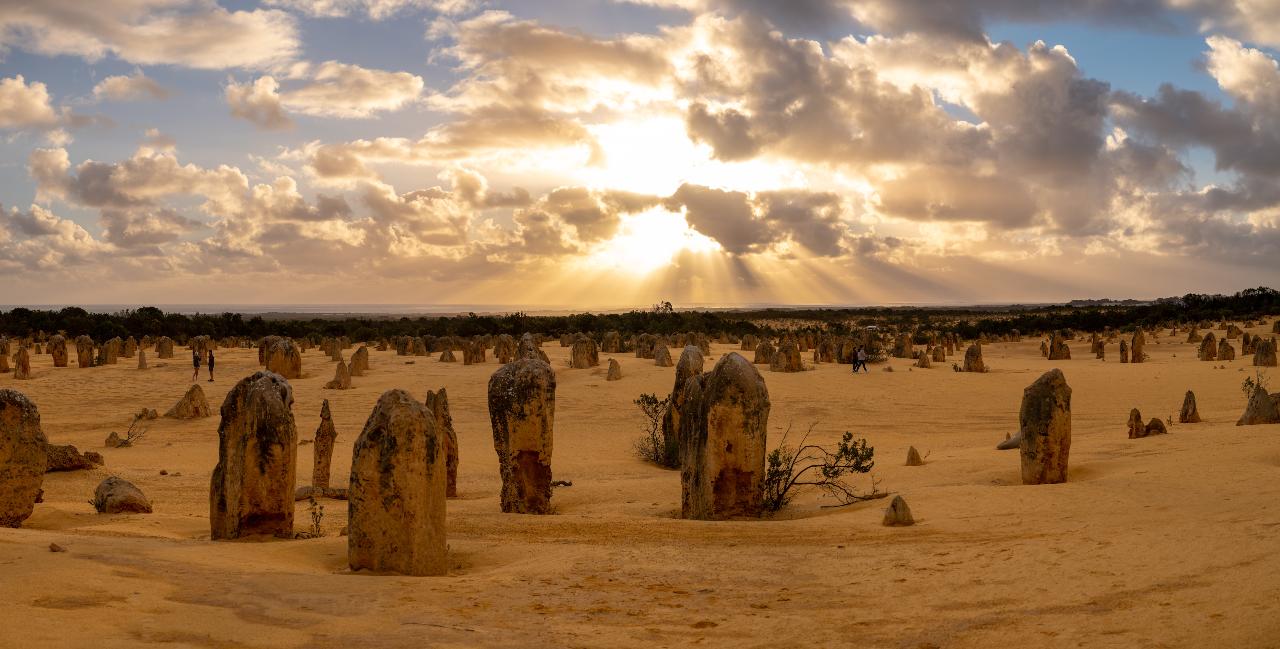 Duration: 5 Hours (approx.)
Location: Western Australia
Product code: APPASST
"Chase the Sunset at the Majestic Pinnacles Desert"
Join us for an unforgettable adventure tailor-made for those with limited time but an insatiable desire to witness the enchanting transformation of the desert limestone landscape as the sun dips below the horizon.
Depart from Perth and journey north along the Mitchell Freeway, where you'll pass by Powis Lake, home to graceful Black swans. Continue through Karrynup, renowned for the prestigious Johny Walker Golf tournament, and venture into the picturesque Joondalup areas. As you drive through Yanchep and rustic Australian countryside, you'll find yourself on the doorstep of Nambung National Park, home to the otherworldly wonder known as The Majestic Pinnacles Desert.
The Nambung National Park is an otherworldly landscape in the making for thousands of years. This unique limestone formation appears like an extraterrestrial terrain, a sight that defies imagination. The Pinnacles, of varying shapes, sizes, formations, and textures, create a breathtaking backdrop for unforgettable photo opportunities. Each Pinnacle is a testament to the marvels of nature, with no two formations alike.
As the sun begins its descent in the west, watch in awe as the Pinnacles undergo a stunning transformation in both color and texture. The fading light creates a surreal spectacle, casting a kaleidoscope of hues across the natural formations. With minimal light pollution, the sky becomes a canvas of stars, bringing the night to life.
Don't miss the opportunity to capture these extraordinary moments with your camera or smartphone. The Pinnacles Desert offers an ever-changing, dreamlike backdrop for unforgettable photo and selfie sessions.
After an exhilarating time in this surreal landscape, we return to Perth, leaving you with memories of a day filled with enchantment and wonder.
Savor this unique chance to witness the Pinnacles Desert at its most magical during sunset. A truly special experience, perfect for those seeking an otherworldly adventure in the heart of Western Australia.